Keto Snack Recipes for Food On The Go
Being curious about the keto diet is only natural because, let's be real: There are very few other diets where copious amounts of healthy and delicious bacon and cheese are on the menu.
Emphasis on healthy and delicious — take it from one of our very ecstatic customers,
"My daughter was in heaven over your meat sticks. She is severly alergic to glutens and follows a strict Keto diet. Talk about over the Moon!! Thanks for sharing your delicious in a stick. We will continue to keep ordering from you again and again. Thank you very much." - Jacqueline Brothers
Truth is, keto meal plans call for low-carb options, so you need to be very intentional with your food choices.
But intentional doesn't have to mean humdrum, so here's a list of keto recipes that will help you achieve your keto goals, whether it's weight loss or eating sugar-free snacks.
What Are the Best Keto Snacks on a Keto Diet?

Ultimate Keto Sampler Pack
The secret to nailing your keto meal plan is keeping a bunch of easy snacks on hand, so you're ready when hunger hits.
Simplicity is the name of the game here because once hunger strikes; you won't have the time nor the patience to do a store run and fix something up. 
That's why we've focused our list of keto-friendly snacks on ingredients you likely already have in your kitchen.
Classic Guacamole Recipe
Ingredients
1⁄4 red onion
2 ripe tomatoes
A few coriander sprigs
2 green jalapeños
2 ripe avocado, halved
1 lime, juiced
Tortilla chips, to serve
Instructions
Finely chop the red onion, tomatoes, coriander, and jalapeños. Mix the onion, tomatoes, coriander, and add a pinch of salt. Keep the jalapeños to one side.
Scoop all the avocado flesh into a bowl and crush with a fork, leaving it chunky – don't make a purée. Add the lime juice and onion mixture, combining gently.
Add jalapeños, to taste, and more sea salt if needed. Serve with the tortilla chips.
Nutrition: Per Serving
| | | | | | | | |
| --- | --- | --- | --- | --- | --- | --- | --- |
| kcal | fat | saturates | carbs | sugars | fiber | protein | salt |
| 155 | 14g | 3g | 2g | 4g | 4g | 2g | 0.1g |
Roasted Pumpkin Seeds Recipe

Source: Unsplash
Ingredients
Freshly-scooped pumpkin seeds 
2 tsp olive oil
Instructions
Heat the oven to 200C/180C fan/gas 6.
Wash the seeds thoroughly, getting rid of any stringy bits of pumpkin flesh. Dry well using kitchen paper.
Put the seeds on a baking tray and toss with olive oil. Roast for 10 mins.
Serve with a little seasoning for a snack, if you like, or use as a garnish for salads or soups.
Nutrition: Per Tbsp (80g)
| | | | | | | | |
| --- | --- | --- | --- | --- | --- | --- | --- |
| kcal | fat | saturates | carbs | sugars | fiber | protein | salt |
| 36 | 2g | 0.3g | 3g | 0g | 16g | 0g | 0g |
Cheesecake Keto Fat Bombs Recipe

Source: Unsplash
Ingredients
115g cream cheese
1/4 cup creamy peanut butter
2 tablespoons Swerve (or any natural sweetener of your choice)
1/2 cup crushed dark chocolate chips (minimum 70% cocoa), optional
Instructions
Let the cream cheese and peanut butter sit at room temperature until softened.
In a bowl, combine peanut butter, cream cheese, and sweetener, stirring until well-mixed and you have a smooth consistency.
Scoop small golf-sized dough and form balls, then dip your fat bombs into crushed chocolate chips if you like. This step is optional.
Arrange your cheese fat bombs on the baking sheet lined with parchment paper. Freeze the cheesecake keto fat bombs for 2 hours or until solid.
Store in the freezer in an airtight container.
Nutrition: Per Serving
| | | | | | | | |
| --- | --- | --- | --- | --- | --- | --- | --- |
| kcal | fat | saturates | carbs | sugars | fiber | protein | salt |
| 76.93 | 7.55g | 4.58g | 1.93g | 1.62g | 0.06g | 0.8g | 33.62mg |
Frequently Asked Questions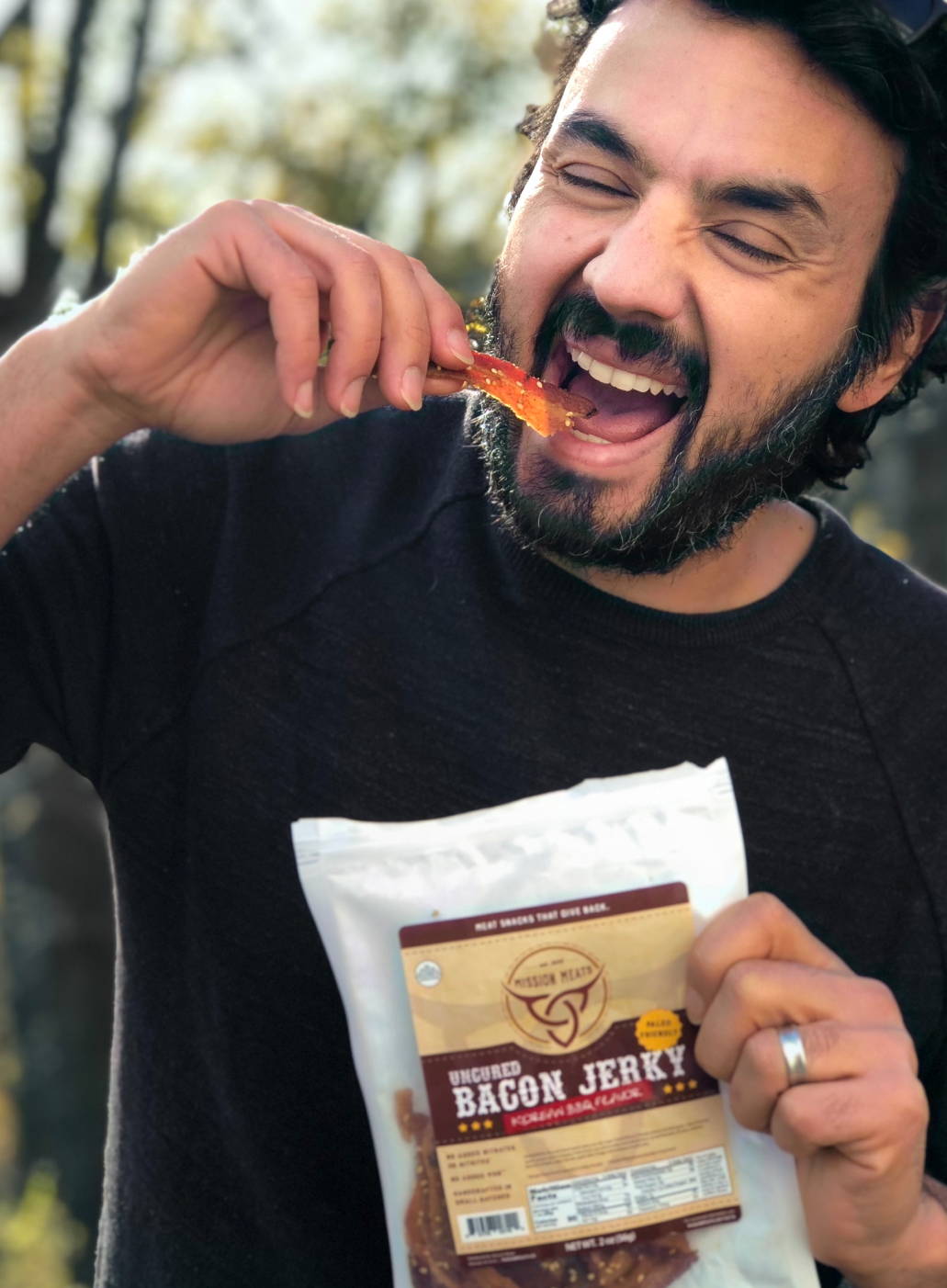 Korean BBQ Paleo Bacon Jerky
Can You Eat Popcorn on a Keto Diet?

Source: Unsplash
We know what you're thinking, "Popcorn is definitely unhealthy, let alone keto-friendly."
Well, you're wrong… but that's a good thing here.
Popcorn is an antioxidant-rich whole grain and air-popped popcorn, particularly low in calories, so it can help you get many important nutrients into your diet. Namely:
Folate
Niacin
Riboflavin
Thiamin
Pantothenic acid
Vitamin B6
Vitamin A
Vitamin E
Vitamin K
With only 5 grams of net carbs, popcorn is not only healthy but can also fit into a keto diet.
However, if you're not mindful, you can also go overboard with popcorn.
"How," you might ask?
Well, if you add too much butter and salt to the snack, it minimizes the health benefits of popcorn.
This is how it works: both of these added ingredients can raise the saturated fat in popcorn by up to anywhere between 20 and 57 grams.
That's why we recommend eating your popcorn plain and if you're itching for some added flavor, stick to small amounts of salt or a healthy oil like olive oil.
Can You Eat Cheese as a Snack on Keto?
Since cheese has a relatively lower carbohydrate percentage, all types of cheese are allowed on the keto diet.
Our table below highlights the macronutrient percentages of some common cheese varieties.
| | | | |
| --- | --- | --- | --- |
| Cheese | Carbohydrate % | Total Fat % | Protein % |
| Brie | 0 | 31.5 | 18.2 |
| Camembert | 0 | 23.8 | 20.4 |
| Mozzarella cheese | 0 | 22.1 | 22.2 |
| Parmesan (fresh) | 0 | 28.8 | 35.1 |
| Feta Cheese | 0.4 | 22.3 | 16.6 |
| Cheddar Cheese (regular fat) | 0.5 | 32.8 | 24.6 |
| Cottage Cheese | 1.8 | 5.7 | 15.4 |
Bottom line: Any type of cheese can pass as a keto snack, as long as total dietary carbohydrate intake remains low enough to keep the body in nutritional ketosis (using stored fat instead of carbohydrate to fuel the brain and body).
Is Peanut Butter OK on Keto?

Source: Unsplash
All-natural peanut butter is low-carb. In fact, a two-tablespoon serving has a mere 3.5 grams of net carbs, and most of the carbohydrates it does contain comes from fiber carbs, meaning they break down more slowly in our digestive tract than carbohydrates coming from sugars.
Here's why peanut butter is one of the most popular keto snacks:
It's high-protein and contains good fats
A ready-to-go snack that requires no prep time
Its dense caloric makeup keeps you feeling full longer
But it doesn't (start and) stop with peanut butter. Remember, choosing a variety of nut butters is important since different nuts contain different beneficial vitamins and minerals:
Almonds have calcium
Cashews are rich in iron and magnesium
Walnuts are high in omega-3s
Think Keto Snacks, Think Mission Meats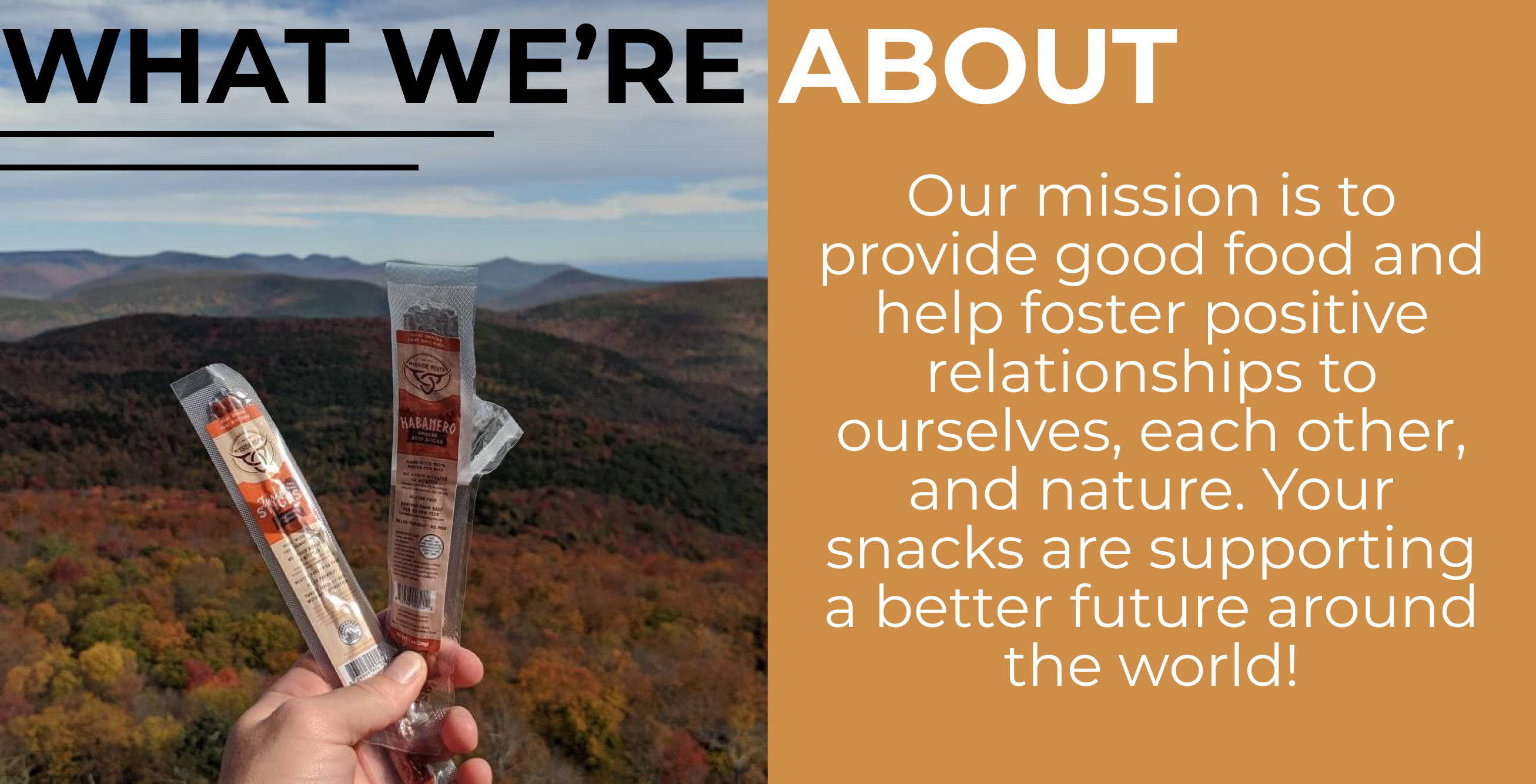 See? Living your very best low-carb life doesn't mean giving up on your favorite snack staples.
In fact, we've got the ultimate snacks that will take your low-carb diet to the next level. In steps, our variety of meat sticks, bar & strips, and jerkies — no time-consuming recipe required.

And here's where the "Mission" in  Mision Meats comes in: not only are all our products high-quality protein-packed keto-friendly snacks, but also every single purchase supports one of the following causes:

Better yet, our Keto Sampler Pack is the perfect way to ease yourself into the Mission Meats lifestyle, and our happy customer agrees.
"Loved my Keto Sampler Pack - and my husband and son have caught on to the deliciousness. They are a must-have in my pantry at all times!" - Lindsay. B
Our sampler pack includes:
Original beef bars
Original turkey sticks
Jalapeno beef sticks
Original beef sticks